Easton Corporation was a manufacturing company created by Bill Easton and Don Allen in 1950.
In 1968, Bill Easton and Don Allen decided to start Ferroloy Foundry, Inc. as a cast iron foundry with the primary purpose of supplying competitively priced casting to Easton Corporation.
In 1969 a building was engineered and constructed by Royer Foundry and Machine Co. at 515 E 29th Street North in Wichita, Kansas.
In 1992, a 4,800 sqft warehouse was added to the existing building.
The Easton Corporation shutdown operations and Ferroloy Foundry , Inc. turned its focus to become a supplier to the agricultural equipment industry.
In March 2003 the assets of Ferroloy Foundry were purchased by Paul Kolbeck and John Hays and reincorporated into Ferroloy, Inc.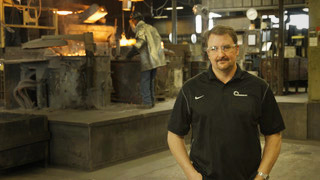 Marvin Janssen made an investment in exchange received a 10% interest in Ferroloy, Inc.
In late 2010, a sister company called Kolbeck Industries was created by Paul Kolbeck for the purpose of developing and growing the machining business.
Between 2011 and 2014, Ferroloy, Inc. made significant capital investments to double core capacity and triple molding, melting and grinding capacities which resulted in record sales in 2014.
Marvin Janssen sold his interests back to the company in September 2012. In 2012 a 5,800 sqft building was added to the existing building for raw materials storage, a maintenance shop and a machine shop.
During 2013 a 1,440 sqft office was added to the existing building.
In early 2014 John Hays retired and sold his interests back to the company.
In 2016 Ferroloy, Inc. was a featured company in Fidelity Bank's, Bravely Onward commercials which focused on Paul Kolbeck's vision for the business.
Following the untimely death of Paul Kolbeck, the interests in Ferroloy, Inc. and Kolbeck Industries, LLC were acquired by Mark Soucie in August 2017.  Simultaneously with the acquisition Kolbeck Industries, LLC was merged into Ferroloy, Inc.
Management began executing on its strategy to expand and debottleneck the facility. This started with a 12,300 sqft building expansion to the south of the existing building to house an expanded machine shop and pattern shop. It also included the addition of a new molding machine and a mill for the pattern shop. The year ended by breaking the sales record established in 2014.
Throughout the year, Ferroloy continued its efforts to expand capacity and build capabilities. The grinding room was relocated and expanded with the addition of another CNC grinder and snag grinding station. Capacity in the machine shop was increased with the addition of a 4-axis and 5-axis milling centers. Capabilities in the pattern shop were expanded with the addition of solidification modeling, part/tool scanning and 3D printing. New records were set during the year with 187 new parts and sales increased by 38%.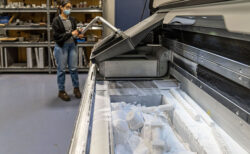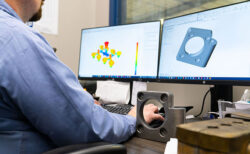 Ferroloy, Inc. is a turnkey supplier of quality cast ductile and gray iron parts, fully machined, and assembled with the ability to heat treat, coat or paint.