Ferroloy provides high quality gray iron castings to customers all around the United States. We're a turnkey supplier for the agriculture, construction, industrial equipment, hydraulics and valves industries. Our gray iron foundry is centrally located in Wichita, KS, therefore we're able to quickly produce and ship gray iron parts to customers throughout the U.S.A.
Whether you've designed the part in-house or you need a partner to assist with casting design, Ferroloy, Inc. is able to produce your cast iron part on time and on budget. We are capable of handling all aspects of gray iron castings, from casting and machining to coating and assembly.
Contact us today at 316-838-0897 to learn more about our iron casting capabilities, or request a quote online.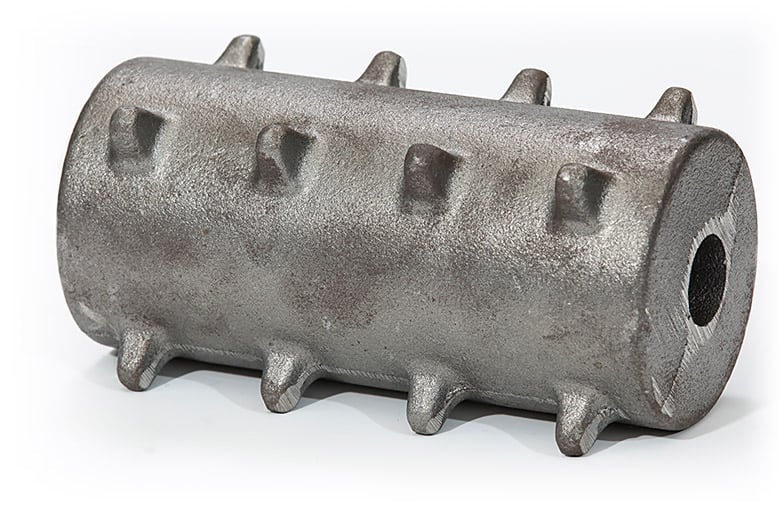 Advantages of Gray Iron Castings
Gray iron castings are preferred when seeking a durable, low-cost solution, with heat dissipation, and high density.  Gray iron has a good fluidity and is easily machined.
Gray Iron Castings Microstructure
Gray iron derives its properties from flake graphite in its microstructure. Its unique attributes include excellent machinability. When the composition of the molten iron and its cooling rate are suitable, the carbon in the iron separates during solidification and forms interconnected graphite flakes. The graphite grows edgewise into the liquid and forms the characteristic flake shape.  The properties of gray iron also are influenced by the relative hardness of the metal matrix, which is the iron that surrounds the graphite. Microstructural properties are primarily controlled by the carbon and silicon content of the metal and the cooling rate of the casting.
Tensile and Yield Strength
Gray iron does not have a measurable yield strength, the range for tensile strength is 20,000 psi – 60,000 psi.
Damping Capacity
The relative ability of a material to absorb vibration is evaluated as its damping capacity. The quelling of vibration by converting the mechanical energy into heat can be important in structures and devices with moving parts. Components made of materials with a high damping capacity, like gray iron, can reduce noise such as chatter, ringing and squealing, and minimize the level of applied stresses.
Best Use For Gray Iron Castings
Gray iron castings are manufactured very easily and have good machinability.
They are typically used in the following applications where strength is important, but not the main required property:
Weights & Counter Weights
Compressors
Powertrain Parts
Suspension Components
End Plates
Valves and Fittings
Pulleys
Sheaves
Linkages
Building facades
Table legs and bases
Pumps
Brackets
Housings
Steering Knuckles
Consider Gray Iron Castings
Looking to cast your next part? Contact the pros at Ferroloy for expert advise about casting conversions. Our sales and technical team work directly with OEMs around the United States to reduce costs up to 60%.
Contact us today for a quote or more information.