ISO 9001 Certified Foundry
Ferroloy is an ISO 9001 certified foundry in Kansas. Our quality management is certified by ISOQAR which independently audits and certifies and consults in the foundry industry. We have been ISO certified since February 2014.
Our quality assurance processes include monitoring and testing the following:
Green Sand Control System
Brinell Hardness Testing
Tensile Testing
Chemical Composition
Dimensional Inspection
Nodularity (Ductile Iron)
Learn more about our quality program below or request more information.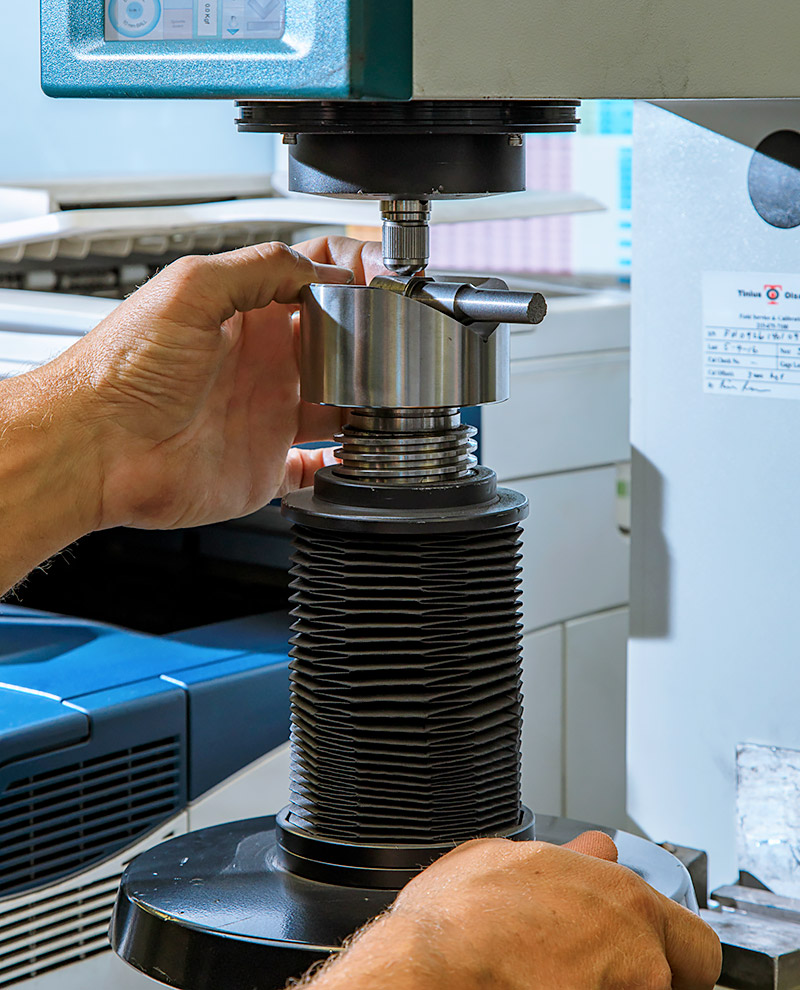 Green Sand Control System
Our mold sand is continuously monitored by our Green Sand Control System, checking each batch produced. In addition, Ferroloy takes samples daily that are run in our lab and periodically samples are sent to independent labs as a cross check.
Brinell Hardness Testing
Hardness values generally relate to an alloy's machinability and wear resistance which Ferroloy monitors using a Tinius Olsen hardness tester.
Tensile Testing
Sample specimens are poured into a y-block or bar and machined in-house into a tensile bar. A Tinius Olsen tensile tester is used to pull the tensile bar to record the tensile strength, yield strength, and elongation.
Chemical Composition
The chemical composition of an alloy has a significant bearing on its performance properties. The iron chemistry is managed through the use of an Oxford Instruments spectrometer on each tap before pouring so the melt department can make required adjustments. In addition, a sample is taken at the ladle to account for the alloys added in ladle which is the source used to produce material certificates for customers.
Dimensional Inspection
To ensure a part meets dimensional requirements within defined tolerances, Ferroloy uses a Brown & Sharpe 4.5.4 coordinate measuring machine (CMM)  along with an assortment of customer supplied gauges and hand held measurement equipment, we work closely with all our customers up front to ensure key characteristics are monitored to ensure peak performance through assembly to the end user. For tight tolerance parts, Ferroloy has all gauging capabilities.
Ductile Iron Nodularity
For every ductile iron ladle poured, Ferroloy takes a lug sample at the last mold poured. The sample is immediately cooled, ground and inspected under a microscope to confirm an acceptable level of nodulatiry.